About the MSc Cognitive Systems
Make computers think, learn, and talk
The MSc Cognitive Systems is a two-year Master's program that covers the areas of computational linguistics, machine learning, and knowledge representation and reasoning. The program is unique in bringing together all three fields in an interdisciplinary combination. The main focus is on developing intelligent computer systems; we also cover formal models of human cognitive processes.
Learn more
study program
Get up to speed and dive into research
We start you off with lectures to teach you the basics of language, learning, and reasoning. As you progress through the program, the responsibility of defining your own research problems will then shift more and more from us towards you, until at the end you complete your first larger-scale research project in the form of your MSc thesis.
Learn more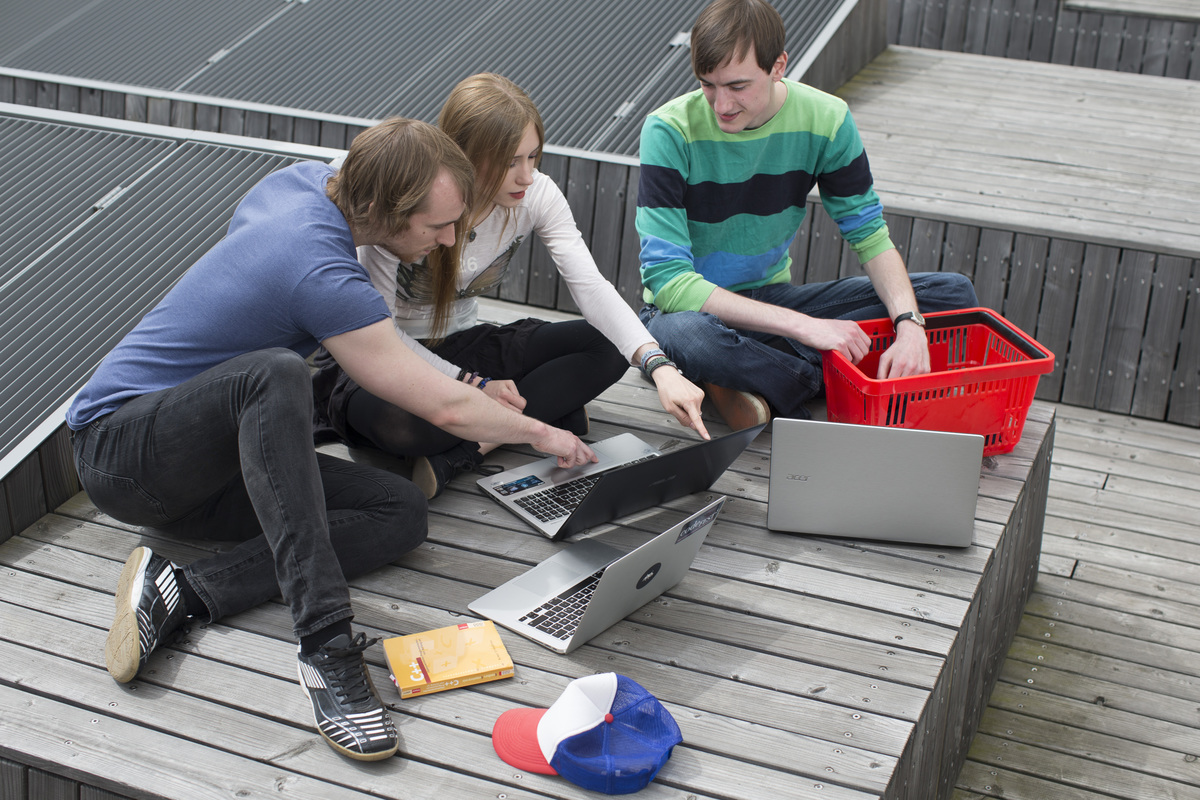 Testimonials
I had always been interested in both language and technology, but before starting the Cognitive Systems program, I didn't have the chance to really dive into the tech side. As the program offers courses to fill in the gaps at the beginning (whether it's linguistics, math, or computer science), I got up to speed quickly. The flexibility to pursue what you find interesting led me to spend a semester in Sydney with a well-known professor in syntax parsing, complete a project modeling historical language change and write my thesis on using machine learning for grammar correction.
Since graduating, I've found lots of opportunities with companies looking for the Cognitive Systems profile, such as an international tech company building a voice assistant and a Big-Four consulting firm for an artificial intelligence position. In the end, I opted for a research and consulting position at a software company making a language analysis tool, and it's thanks to this program that I have the skills I need for it.
– James Longbotham, CogSys Graduate
I started the Cognitive Systems program as a consecutive program to my bachelor's in computational linguistics. Because of the program's three-branches-structure, you can focus on one branch, but also take a look at the other branches or combine them to fit your interests. For me, this was the combination of computational linguistics and machine learning. The structure enabled me to dive deeper into my favorite domain, but also to get some experience in other domains, such as image processing. Another nice aspect is that you often had to do projects rather than exams, which I preferred since they are much more "hands-on". I also liked meeting students from all over the world. I think it is important, especially in this field, to learn how to work with people with different backgrounds, skills and knowledge levels. The program is a good starting point for that. However, depending on your own background, you have to take initiative yourself and sometimes work a little harder to keep up. For example, you definitely profit from some programming basics and math skills. Also, Cognitive Systems is not a school-like program, where everything is already decided for you and you only have to pass exams: you are responsible for your study plan yourself. And speaking from personal experience, having a side job does not help to finish the program in time ;)
All things considered, the program can provide you with a good basis for a job in both academia and industry, both technically and mentally, in a field that is in demand almost everywhere.
– Lisa Raithel, CogSys Graduate
I joined the CogSys M.Sc. program, intending to acquire machine learning research skills. I already had some software development skills but lacked any prior experience in machine learning and research. The flexibility of the degree really allowed me to explore this interest. Especially during the second year, when we were expected to do large research projects (12-15 credits each!), I got a chance to apply machine learning to medical imaging, language modeling, cognitive science, and video processing. This says a lot about the potential of the program if one is willing to explore it. During the M.Sc., I got opportunities to work part-time first as a research assistant at a medical imaging research lab in Berlin and later on at a startup working on Autonomous Driving. The proximity to Berlin's job market is a big plus from a career perspective.
After graduating, I began to work as a full-time researcher (PhD) at the medical imaging lab where I worked before. CogSys has helped me a lot to not only explore my career goals but also hone and develop my technical and research skills. Furthermore, the inclusive international crowd in the program pushes one to also grow as a person :) I am thankful to CogSys and my CogSys buddies for the amazing experience!
– Roshan Rane, CogSys Graduate
After my business informatics studies, my desire to gain more knowledge in the field of machine learning was sparked by my bachelor thesis. I decided to study Cognitive Systems because the interlocking of computer science and linguistics appealed to me. As a student, I gained not only technical skills, but also domain knowledge in the field of linguistics. This knowledge was not only taught through courses on artificial learning, but also through many project modules. Here, tasks such as classification, regression, deep learning, and more were taken out of the classroom and applied in real-world use cases. Since the choice of topics is mostly free, I used this opportunity to deal with current areas of interest from my work-study activities. Besides, a semester abroad in Gothenburg was no problem due to the skills I acquired during my studies.
In the end, I have not only expanded my skills in programming with Python or R, but also in scientific work. Thus, all paths are open for a career in the private, as well as the scientific sector. I am very happy to have taken this step, because in my work I realize again and again how many areas of application there are for ML. It is a demanding program that required a lot of discipline, but was absolutely worth the effort.
– Paul Opuchlich, CogSys Graduate
The diversity of the MSc Program in Cognitive Systems allowed me the flexibility needed to forge my own path. I effectively traversed disciplines as I made my way from theoretical linguistics, to computational linguistics and finally to machine learning/data science. I got a job as a data scientist before I finished the program, and worked as a working-student during my studies (though I took longer than four semesters to finish...more like 7!). I continue to work in the same job, and have been able to directly apply skills from machine learning (e.g. classification) at work, and regularly program in Python and R, both of which are visited in the Cogsys program. Coming from a more theoretical background, the program was very difficult for me. I would say that it is absolutely necessary to be a self-starter and put in extra-hours in order to keep up with the more math/computer-science savvy students. But it can be done...I'm proof!
– Clayton Violand, CogSys Graduate