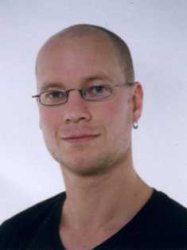 Kontakt
Prof. Dr. Malte Zimmermann

Institut für Linguistik
Universität Potsdam
Karl-Liebknecht-Str. 24-25
D-14476 Potsdam

Tel.: +49-(0)331-977-2319
Fax: +49-(0)331-977-2087
Email to: mazimmer_at_ uni-potsdam.de
About Me
I am professor of semantics and grammar theory at the Linguistic Department of Potsdam University. I am interested in the language capacity of human beings in general, and in the relation of linguistic form and meaning, aka semantics, in particular. Among many other things, I am interested in quantification, tense, question semantics, discourse particles, and information structure. Me and the members of my Potsdam semantics group are also extremely interested in the semantics of under-researched languages of Africa and (South)East Asia, which involves semantic field research in Ghana, Cameroon and Nigeria. Together with Edgar Onea (Graz), I currently direct an experimental research project on the (non-)exhaustive interpretation of embedded questions across European (English, German, Hungarian, Romanian) and Non-European (Hausa, Akan) languages. This project is funded by the DFG as part of the priority program SPP 1727 XPrag.de on experimental pragmatics. I am also a faculty member of the African Linguistics School (ALS), which takes place biannually in different West African countries.
Apart from linguistics, I enjoy being and travelling with my family, including interesting outdoor adventures such as hiking, cycling, and canooing. Last but not least, I am fostering an undying love for the football team of FC St Pauli, who may not always be great - but they are trying!
Recent and not so recent talks
Positions
2011 Full Professor of Semantics and Theory of Grammar, Universität Potsdam
since 2009 Director of Collaborative Research Centre SFB 632 Information Structure
2006 Junior professor of Semantics, Universität Potsdam
2003-2006 Research assistant in project B2 Focus in the Chadic languages, SFB 632 Information Structure, Humboldt University Berlin
2002-2003 Postdoc in graduate program "Sentence Types: Variation and Interpretation", University Frankfurt/Main
Research Grants
2017-2021, SFB1287 Limits of Variability in Language, C02 Limits of variability in interpretation, (Co-PU with A. Koller, Saarbrücken)
2017-2020 SPP 1727 XPRAG.de, Exhaustiveness in embedded questions across languages, (Co-PI with E. Onéa, Göttingen)
2014-2017, SPP 1727 XPRAG.de, Exhaustivity in it-clefts, (Co-PI with E. Onéa, Göttingen)
2012-2016, DFG-Network Questions in Discourse, (with E. Onéa, Göttingen)
2007-2015, SFB632 Information Structure, A05 Focus realization, Focus interpretation and focus use from a cross-linguistic perspective
2007-2011, SFB632 Information Structure, D02 Typology of information structure , (co-PI with Gisbert Fanselow and Caroline Féry)
Education
Teaching
As a full professor at the Linguistic Department of the Universität Potsdam, I regularly teach courses in the department's BSc- and MSc-programmes in linguistics. In addition, I am a faculty member of the African Linguistics School (ALS). I also taught courses at the ESSLLI summer schools of 2009 and 2011 and the GLOW summer school of 2006.
PhD Supervision - completed
2018 Lena Karvovskaya (Universiteit Leiden, co-supervision with Johan Rooryck), "The typology and formal semantics of adnominal possession"
2016 Agata Renans, "Exhaustivity. On exclusive particles, clefts, and progressive aspect in Ga (Kwa)"
2015 Anne Mucha, "Temporal interpretation and cross-linguistic variation. A formal semantic analysis of temporal and aspectual reference in Hausa and Medumba"
2015 Mira Grubic, "Focus and Alternative Sensitivity in Ngamo (West-Chadic)"
2014 Vera Hohaus (Universität Tübingen; co-supervision with Sigrid Beck), "Context and Composition: Value Assignments to Free Functional Variables"
PhD Supervision - in progress
Carla Bombi Ferrer (UP): Exhaustiveness in embedded questions; expected completion date 2020
Joseph DeVeaugh-Geiss (UP), Limits of Variability in Presupposition Accomodation and Lexical Reinterpretation, expected 2019
Eva Shipova (UP), The interpretation of Russian éto-clefts: Experimental investigations
Claudius Klose (UP), The interpretation of TAM-marking in Aymara
Actual courses: Summer 2018
MM3: Question Semantics (MSc Ling)
Questions in Discourse (MSc Cognitive Systems, together with Tatjana Scheffler)
VGS-V: German dialects: Syntactic (micro-)variation (BSc Ling)
BM3: Introduction to Formal Semantics (BSc Ling)